A Separate Peace is the second episode of the fifth season.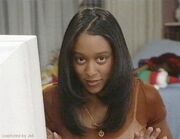 After getting on each other's nerves Tia and Tamera get separate rooms. Meanwhile Ray is teaching Roger how to be a man.
The girls are shown in what seems to be their original room but it is actually much smaller and completly different then the room they lived in in earlier episodes.
The girls get separate rooms.
Ad blocker interference detected!
Wikia is a free-to-use site that makes money from advertising. We have a modified experience for viewers using ad blockers

Wikia is not accessible if you've made further modifications. Remove the custom ad blocker rule(s) and the page will load as expected.