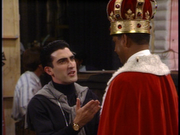 This is the sixth episode of the second season.
Ray wants to make a commercial for "Ray's Limo Service" but he cannot get the lines right! Tia and Tamera are also in the commercial, and find a pig that is being abused. They take it to their house but have to hide it from their parents. When Ray and Lisa find out Billy the pig, he has to go. Meanwhile, Lisa has two "near-death" experiences; One being suffocating in soup and another with a ceiling fan.
Tamera Mowry as Tamera Campbell
Ad blocker interference detected!
Wikia is a free-to-use site that makes money from advertising. We have a modified experience for viewers using ad blockers

Wikia is not accessible if you've made further modifications. Remove the custom ad blocker rule(s) and the page will load as expected.