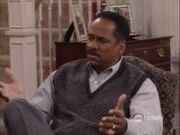 Grandpa Campbell is the fifth episode of the third season.
A visit from shady Grandpa Campbell has Ray keeping an eye on his wallet and on Lisa: his father has a crush on her. Meanwhile, Tamera turns tycoon when the elder Campbell helps her turn a school project into an exercise in greed. Ray has never been a fan of his father, who he perceives as an opportunist. But when Grandpa Campbell shows up, Ray makes the best of his visit. For the first time, Grandpa Campbell seems attentive to Ray and his family. Ray begins to see a new side of his father, as Grandpa Campbell gets involved with Tia and Tamera's projects for their school's entrepreneur week. When Grandpa Campbell leaves, Ray feels better about his relationship with his Dad, despite Grandpa Campbell leaving with some of Ray's money.
Tamera Mowry as Tamera Campbell
Sherman Hemsley as Jimmy Campbell
Ad blocker interference detected!
Wikia is a free-to-use site that makes money from advertising. We have a modified experience for viewers using ad blockers

Wikia is not accessible if you've made further modifications. Remove the custom ad blocker rule(s) and the page will load as expected.