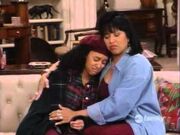 Kid in Play is the thirteenth episode of the second season.
Tia's offered the lead in the school play- but only after Tamera forfeits the part by being late for a rehearsal.
Tamera Mowry as Tamera Campbell
Marques Houston as Roger Evans
The school play, Miss Thang, is a composition of Pretty Woman, Lady Saigon, and My Fair Lady.
My Fair Lady: The play Miss Thang was supposed to be a combination of My Fair Lady and West Side Story. Mr. Wiggins is a parody of Profesor Higgins in My Fair Lady.
The Title: Kid in Play
This title is a spin on the rap duo, Kid n' Play.
When the guy says in the actual play I could use a drink you can see that there is no glass of water there. But when the shot changes a glass is there.
Goof: Ray tells Tamera that "to be or not to be" is only one line, but in Hamlet "to be or not to be" is part of a whole monologue, not just one line.
Ad blocker interference detected!
Wikia is a free-to-use site that makes money from advertising. We have a modified experience for viewers using ad blockers

Wikia is not accessible if you've made further modifications. Remove the custom ad blocker rule(s) and the page will load as expected.