Little Ray a stray Orange tabby Cat that Lisa adopted in Cheater, Cheater.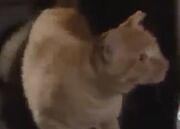 Relationships
Edit
Little Ray was named that so Ray would approve of keeping the cat. Ray hates Little Ray. Little Ray jumps into his car and also scratched up his favorite chair.
Lisa loves little Ray to death
Little Ray is not seen or mentioned after Joey's Choice. This sudden absence is never explained.