Marlon Baker (Aaron Lohr) – Marlon is a student at Roosevelt High. He is seen during the fourth season.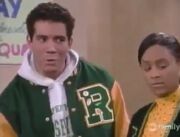 Personality
Edit
Marlon is a hockey jock who likes to make fun of students. This is usually Tia and Tamera, one instance was when Lisa was the school cafeteria lady and Marlon made fun of Tia because of it. He becomes the new Rhonda Coley, or sorts, for that season. Marlon has, at the same time, flirted with the girls, which they don't like, adding to their rift.
The character's portrayer, Aaron Lohr, previously appeared on Sister, Sister as a different character, an older teenager whom Tia goes out on a double date with (joined by Tamera and Roger) in the season one episode "Wedding Bells and Box Boys".