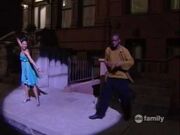 Shoeless is the twenty first episode of the fifth season.
Tamera gets hired to clean the house so she can pay for a two hundred dollar dress she saw at the mall for Jordan's big party. However she doesn't clean enough to get the money so she quits. Until Ray grounds her until she finishes doing her "chores". Meanwhile grandpa Cambell's back in town and he starts a horse brawn carriage in Detriot. Also he Tamera's grandfather plays fairy godfather to make the impossible possible.
Tia Mowry as Tia Landry
Tamera Mowry as Tamera Campbell
Jackée Harry as Lisa Landry
Tim Reid as Ray Campbell
RonReaco Lee as Tyreke Scott
Guest Star
Edit
This is a parody of "Cinderella"
This is the last appearance of Jimmy Campbell
These are who the characters played if it was Cinderella:
Ad blocker interference detected!
Wikia is a free-to-use site that makes money from advertising. We have a modified experience for viewers using ad blockers

Wikia is not accessible if you've made further modifications. Remove the custom ad blocker rule(s) and the page will load as expected.