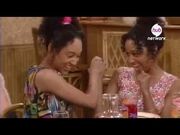 This is the ninth episode of the third season.
Lisa and Terrence were going to take Tia to a time share in Hawaii for Thanksgiving, but since their break up things are different. Lisa thinks Terrence will not go, and Terrence thinks Lisa will not go. Of course, they both do go. Lisa invites Ray and Tamera to join them for a family Thanksgiving while Terrence invites Tonya, Ray's ex-girlfriend. When they all show up at the condo, chaos ensues. A traditional Thanksgiving this is not. The twins decide to slip out and explore the island, only to find themselves on a sail boat drifting out to sea.
Tamera Mowry as Tamera Campbell
Marques Houston as Roger Evans
Guest Star
Edit
John Ratzenberger as Gus the transplanted islander/handyman of the condo complex
Dorian M. Wilson as Terrence
Ad blocker interference detected!
Wikia is a free-to-use site that makes money from advertising. We have a modified experience for viewers using ad blockers

Wikia is not accessible if you've made further modifications. Remove the custom ad blocker rule(s) and the page will load as expected.